October 16, 2023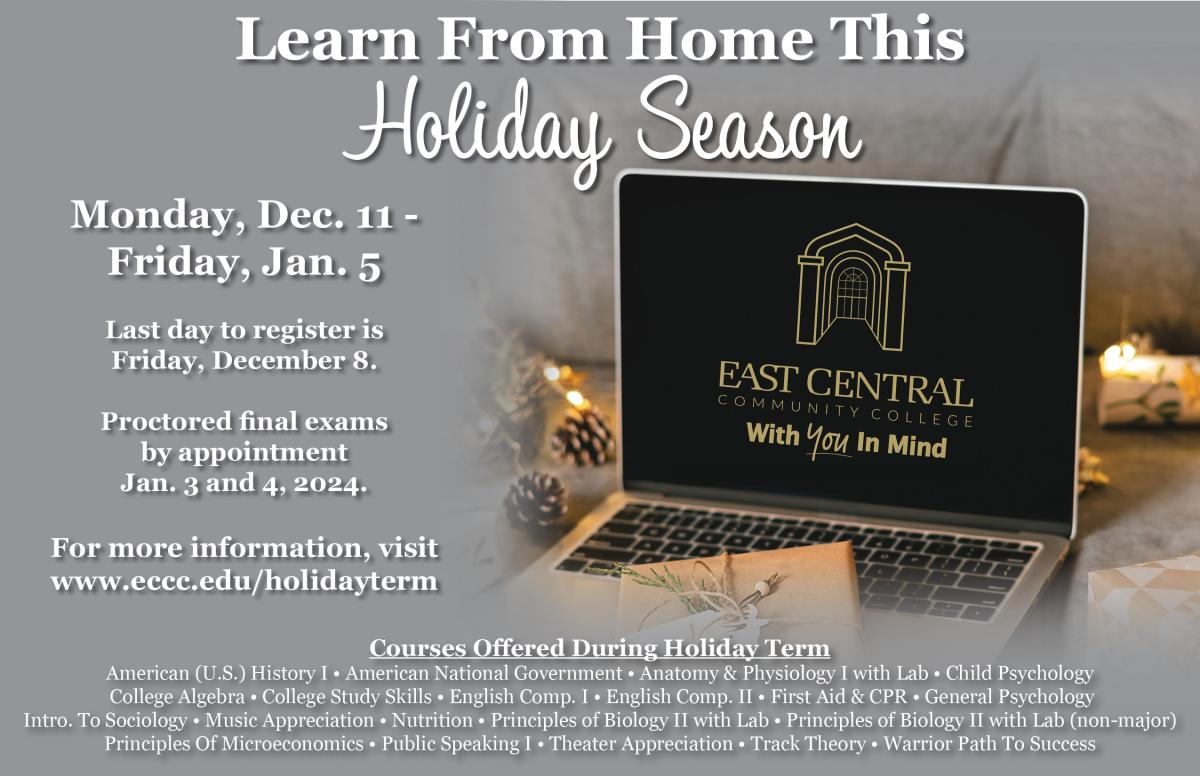 East Central Community College (ECCC) in Decatur is excited to announce its second annual online winter session, extending an invitation to college students from any institution. This exciting opportunity allows students to earn credit hours during their winter break, arming them with an academic edge as they return to their spring sessions. 
ECCC will offer a comprehensive selection of online courses tailored to meet the diverse needs of students in multiple fields. Course offerings include U.S. History I, Child Psychology, English Comp I, English Comp II, Biology I with lab, Biology II with lab, Theater Appreciation, Public Speaking I, Intro to Sociology, General Psychology, Microeconomics, American National Government, Music Appreciation, Anatomy and Physiology I with lab, College Algebra, Nutrition, College Study Skills, Track Theory, First Aid and CPR, and Warrior Path to Success.  
ECCC is committed to making admission and payment for winter sessions as easy as possible. The cost of each class is set at $160 per credit hour plus fees. To secure a place in these sought-after courses, students are required to complete tuition and fee payments before classes begin. 
Enrollment for the online holiday term is now open, with classes running from December 11 to January 5. The deadline to apply for these special courses is 11 a.m. on Friday, December 8. To enroll, students must complete the admission requirements with a free application for admission for Spring 2024 as a non-degree seeking student, order and send an official transcript from the last college or university attended to ECCC Admissions, then send an email to
holiday@eccc.edu
with your myEC Student ID # indicating your chosen course or courses. 
ECCC encourages students to take advantage of this opportunity to enhance their education during the holiday season. For more information click
here
.