October 6, 2017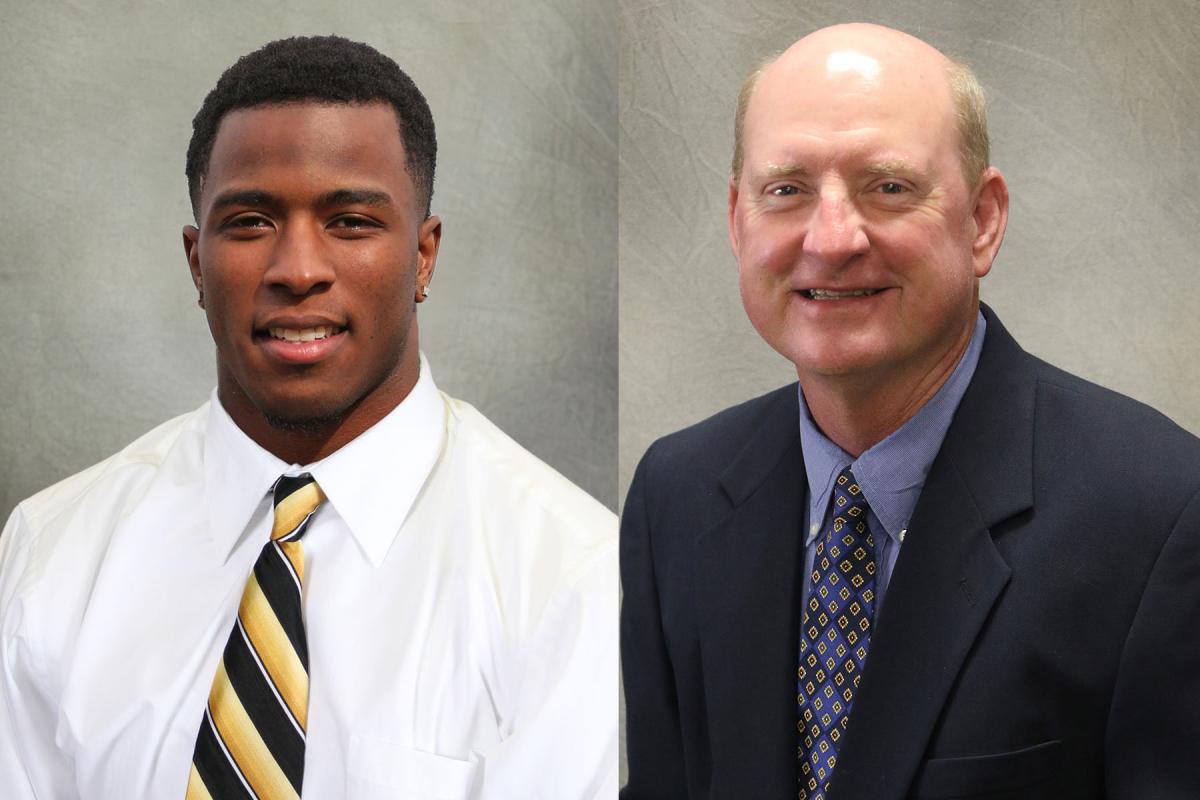 Tim Anderson (left) and Jeff Breland
Chicago White Sox shortstop Tim Anderson, a Tuscaloosa, Ala., native, and longtime football coach and former two-sport athlete Jeff Breland of Lake will join an elite group of men and women when they are inducted into the East Central Community College Athletic Hall of Fame during Homecoming activities scheduled Oct. 19, 2017, on the Decatur campus.
Anderson is a member of the Class of 2013 and was drafted in the first round, 17th overall, by the Chicago White Sox following a stellar two-year career at East Central Community College. After quickly working his way through the minor leagues, he is currently the starting shortstop in Chicago.
When notified of his selection to the ECCC Athletic Hall of Fame, Anderson said, "This is such an honor, one of the greatest honors of my career. I'm so excited to be receiving this award. It means a lot to know that my EC family still keeps up with my progress as a person and as a player. To my East Central family, thank you for some of the best memories of my life, and thank you for allowing me to receive such a prestigious honor."
Breland is a 1983 graduate of East Central Community College, where he was a two-year member of the football and baseball teams. In addition, he has served as a football coach, athletic director and teacher at various high schools throughout the area for three decades. He currently serves as part-time athletic director for the Scott County School District after retiring from Lake High School.
Upon hearing of his selection for this prestigious honor, Breland said, "I was estatic. To be selected for this honor is just unbelievable. I was fortunate to play with some great players and had coaches who believed in hard work and discipline. I'm just glad that I got to play football and baseball at East Central. It was home away from home and a great experience."
Tim Anderson
Anderson was a two-year starter for Head Coach Neal Holliman and the Diamond Warriors in 2012 and 2013 before being drafted by the Chicago White Sox. He played for the Kannapolis Intimidators, the Birmingham Barons and the Charlotte Knights before being called up to the major leagues in June 2016. He was selected a Minor League (Double-A) All-Star MVP in 2015.
"Getting drafted out of EC in the first round in 2013 was probably one of the most surreal moments of my career," Anderson said. "I'm forever thankful for the love and support of Coach Holliman and (and his wife) Mrs. (Tracey) Holliman, and the rest of my EC family."
In an earlier interview for the college's alumni magazine, The Warrior, Anderson reminisced about the day he was "called up" to the majors.
"I was in the lineup that day (for the Charlotte Knights) when I went out for BP (batting practice), but when I came back to the dugout my name had been taken off," he said. "I really didn't know what to think sitting there. But after the game, the coach called me in and told me I was being called up. I flew out the next morning and played that night."
He said his first at-bat was surreal, almost like an "out-of-body" experience.
"I was excited and nervous. I didn't feel like myself. It was almost like I was watching myself from afar. Then I stepped up to the plate and hit a double and I relaxed after that."
Anderson belted his first career walk-off hit on Aug. 23, 2017, which he says was an "exciting moment" and one of the highlights of his career. He also signed an unprecedented six-year contract extension after less than one year in the major leagues, which is the most lucrative contract given to a position player with less than one year's service in baseball history.
Anderson said the highlight of his college career would have to be the first two games of his sophomore season at East Central.
"The first two games of my sophomore career at EC, I went 7 for 8 with three home runs. That was an unforgettable feeling. Those two games really, along with the guidance of coach Neal Holliman, gave me the confidence I needed to become the player I am today." 
Anderson was a Mississippi Association of Community and Junior Colleges All-State selection and a National Junior College Athletic Association All-Region selection both his freshman and sophomore seasons. He was selected a National Junior College Athletic Association First Team All-American in 2013, held the highest batting average in the nation at .495 and was named 2013 NJCAA Male Athlete of the Year.
He was also a member of the 2013 State Championship squad, which he said was "one of the best moments of my career."
He credits the college with helping him with both athletic and personal goals.
"Having access to all of the necessary resources helped me to become a better man and a better player," he said. "The coaching staff was phenomenal. Coach Holliman and the other coaches genuinely cared about me as a human being as opposed to a kid who plays baseball."
Anderson said the high points of his time at East Central also include spending time with teammates, both on and off campus.
"Some of the best times included going to church with Coach Holliman and the guys on my team a couple of Sundays during my freshman and sophomore year. It was great worshipping with those guys."
In addition to former coaches, Anderson says his family has always played an important role in both his life and career.
"My mom (Lucille Brown), my dad (Roger Brown), my two brothers (Frederick Brown and Kendrick Brown) and my sister (Latonya Howard) have really been influential throughout my life. They've always supported me. They've always been there for me. I couldn't ask for a better group of people to have in my corner," Anderson said. "Also, my wife (Bria) and my daughter (Peyton) impact me greatly. They really keep me going each day."
He also includes as his family ECCC head coach Neal Holliman.
"Coach Holliman has seriously influenced my life and career in more ways than one. He's been a coach, a mentor, and a friend for as long as I've known him. I'm grateful for having him believe in me."
Since his time in the league, Anderson and his wife have begun to give back to their community and recently started a nonprofit titled "Anderson's League of Leaders."
"For so long we knew we wanted to start an organization that would benefit the youth," he said. "With the passing of my best friend, Branden Moss, we were even more eager to get things going with League of Leaders. League of Leaders reaches out to kids who are at risk for violence, whether it be gang violence, gun violence, abuse, we want to show these kids that there's a better way in life."
Jeff Breland
Breland was a two-year letterman on the 1981 and 1982 East Central Community College football teams and the 1982 and 1983 Diamond Warrior baseball teams. He was a Mississippi Association of Community and Junior Colleges All-State selection and a National Junior College Athletic Association All-Region selection in football and was selected to play in the MACJC All-Star football game. As a sophomore he was the recipient of the Andrew F. Webb football award.
Following his graduation from East Central, Breland completed his degree at Mississippi State University before embarking on an accomplished coaching career that would span three decades and amass a 159-65 record as a head coach at Lake, Newton and Newton County high schools.
His teams had 16 playoff appearances and two south state championship game appearances as a head coach. He has served as an assistant and a head coach for both the Bernard Blackwell All-Star football game and the Mississippi/Alabama All-Star football game. During his stint as head coach, Breland led his Mississippi team to victory in 2015 ending a seven-year losing streak to Alabama. He was twice named Region 5-3A Coach of the Year.
He has served as an assistant coach for 11 years at Lake, Biloxi, and Louisville high schools, where he was a part of nine playoff appearances, six south state championship appearances and three state championships.
After retiring as head coach at Lake High School in January 2016, Breland now serves in a part-time capacity as athletic director for the Scott County School District.
"This position is allowing me to still be involved in athletics without the high stress level from coaching," he said.
Among his career influences are his former bosses who gave him the opportunity to coach the sport he loves.
"Mr. Creeper (James) Nelson, former superintendent of Newton High School, gave me my first head football job. I'm forever grateful to him for trusting me to get the job done," Breland said. "Mr. Billy Pierce, former superintendent of Newton County Schools, hired me in 1999. I always felt Newton County was a 'sleeping giant' and with his commitment to athletics, we were able to get the football program where it needed to be. In 2001, we played our first home football game in our new stadium."
Sometimes the greatest impact East Central Community College can have on a student is providing the time necessary to make life decisions. Breland said he wasn't sure what his career would be when he graduated high school, but eventually decided to pursue his dream of being a coach, something his mother was against in the beginning.
"My mother (Elizabeth Breland) wanted me to major in business, but I really wanted to coach. My dad coached and she wanted me to steer away from the profession. But after two years, we both came to the conclusion that I needed to pursue my dream. So in essence, (those two years at) EC helped push me in the direction I wanted to go. The business world just wasn't for me."
Breland said East Central was a special place for him and where he made many lasting friendships that still exist to this day.
"You knew everyone. Some of the people I met at East Central wound up being fellow employees. In the coaching profession, you develop many contacts and some of the guys I played football with became coaches in and out of the state. To this day, we still stay in contact. EC was a very important part of my life."
One of his fondest memories at the college is also perhaps one of his most embarrassing and it involved one of his favorite teachers, Dr. Richard Ethridge, a former history and government instructor.
"I really admired Dr. Ethridge. … He was an avid runner and jogger. He would always pick at the athletes about how good or bad of condition we were in. Anyway, he asked me if I would like to run with him one day. I asked 'how far' and he replied 'a mile or two.' He suckered me in. I accepted the challenge. At this time, Doc was probably in his 50s. We hit the road jogging and he got stronger and stronger the farther he went. I had to call timeout for a break. He said 'What's wrong, Mr. Breland?' I told him he was about to run me to death. Anyway, we finally got back to his house. I was about dead. The next day in class I was the topic of discussion. He announced to the class, 'The old man has defeated another athlete!' "
In addition to Ethridge, Breland had many great instructors at the college; however, when it comes to the ECCC instructor who had the greatest influence on his life, Breland is quick to say it was his mother, Elizabeth, who taught business technology at the college for 29 years.
"Most of the time she knew my grades before I did. She definitely kept me on the straight and narrow path. Many nights she would get home at 2 or 3 a.m. from a Thursday night football game and be back at school the next day. I owe her a lot. She was always there for Brad and me."
Brad is Jeff's younger brother, who also went on to pursue a career as a football coach and is currently head coach at Union High School.
In addition to his mother and brother, Breland's family includes his wife, Michelle, and two daughters: Lyndsey and Laurel.
He is a member of the Mississippi Association of Coaches and was instrumental in helping organize and sponsor the Fellowship of Christian Athletes chapter at Newton County High School. He is also an active member of First Baptist Church Lake.