May 5, 2017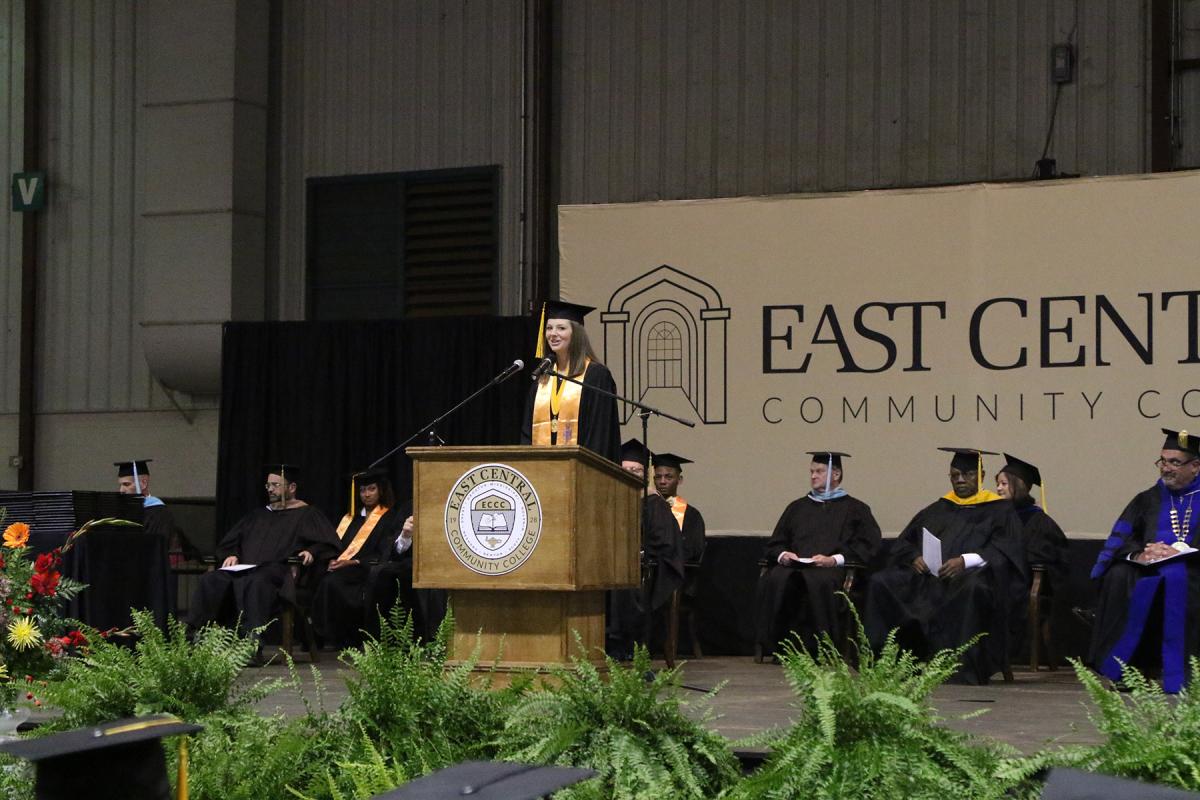 Katie McCool of Louisville delivers the commencement address during East Central Community College's graduation ceremonies held Friday, May 5, at the Neshoba County Coliseum in Philadelphia. (EC Photo)
Addressing guests and her fellow graduates at East Central Community College's 88th Commencement held Friday, May 5, 2017, at the Neshoba County Coliseum in Philadelphia, Katie McCool of Louisville said ECCC was part of God's perfect plan for her life.
"… You see, I look out as I'm giving this speech, and I see so many faces. So many people that I have come to know personally, and others I sadly never got to meet. But there is one thing that I know we all have in common. Psalm 139:14 says, 'I praise you because I am fearfully and wonderfully made. Your works are wonderful. I know that full well.' So, when I look at each of your faces, I know that each and every one of us was fearfully, beautifully, and wonderfully made by God. There is no doubt in my mind that His plan for each of us is perfect.
"Thankfully for us, East Central Community College was part of that perfect plan. The two years I have spent here have been blessings that I will thank God for, for the rest of my life. I have made friends and created relationships that will last a lifetime. I have been pushed to my limits and tested like never before. In the moment, I may not have realized it, but looking back I know it was in my best interest."
Dr. Teresa Houston, vice president for instruction, presented the candidates for graduation, and ECCC President Dr. Billy Stewart awarded degrees and certificates during the ceremony.
More than 600 students applied to graduate, which would be a record graduating class. Included in the total were those who completed degree requirements following the spring 2017 and fall and summer 2016 terms. The final number of students who met all criteria to graduate will be determined next week.
East Central had its largest graduating class in history in May 2016 when 599 students received diplomas or certificates.
McCool began her remarks by asking those in attendance who their favorite teacher was and what their favorite subject was. She reminisced about various classroom experiences and teachers before asking, "All in all, what makes you, you?"
She continued, "I found my place. It was with science That's right, I found a love, or fondness rather, for looking at reactions, putting things together, and apparently studying 24/7, although I don't know if that should go in the love category!
She talked about her chemistry class and the countless experiments for which she prepared.
"Now, with every experiment comes preparation, understanding, and unfortunately, errors. No matter how many times or how carefully a person conducts an experiment, it will never turn out perfect. It is statistically impossible. This is because we are human, and we do not have the power to control every detail. There are times when we think we have complete control, and end up causing more harm than good. … However, despite what all the numbers say, there is one scientist who always achieves perfection. I'm referring to our great creator!
It was at this time she talked about God's perfect plan for her life and then thanked college employees, family and friends for the part they have played.
"So, faculty, staff, and administration, I would like to take a brief moment to speak to you directly. First of all, I want to say thank you for everything you do. I think I speak for everyone in this room when I say we are truly grateful for each and every one of you and the constant efforts you put forth in order to make this school the amazing place it is. You all work tirelessly to provide us with a welcoming and open learning environment in which we can learn and express ourselves freely. Not only are you our leaders, but, you are our family. Never once was I treated as a number, but always as an individual with potential beyond what I could see. So, thank you from the bottom of my heart, and may every student in the coming years come to have the kind of relationships with you that I have.
"Friends, family, and loved ones, thank you for all that you do. Without your love and support, we would not be where we are today. "
McCool, a President's List scholar who was recently inducted into the ECCC Hall of Fame, concluded her remarks with a charge to fellow graduates.
"And finally, to my fellow graduates. Our time here has been rather short and limited, but amazing to say the least. I like to think that we have made the most of every moment here, and now it is time for us to take our next steps and go our separate ways. Whether it be continuing your education, or going straight into the workforce, I wish you the very best. I pray that you will find success in whatever path you choose, and may you strive to glorify God in all that you do. Jeremiah 29:11 says 'For I know the plans I have for you declares the Lord, plans to prosper you and not to harm you. Plans to give you hope and a future.'
"God has truly blessed us with an amazing school with faculty and teachers that truly care. We know that in the years to come there will be both excitement and fear, ups and downs, good and bad, but with supporters like all of you and an amazing God that loves us unconditionally, we know there is nothing to be afraid of. Everyone here has been such a great part of our success, and for that we are forever grateful.
"With that I say peace out EC. Stay excellent. Stay classy."
In addition to McCool, other graduating sophomores participating in the commencement program were Khalil Triplett of Philadelphia, who gave the invocation, and Laneisha Jeans of Pensacola, Fla., benediction. Presenting the musical selection "An Offering" were Anastasia Crout and Zachary Emmons, both of Lake; Mackenzie Gray, Mendenhall; Patricia Jones, Carthage; Gage Leifried, Meridian; Coy McMullan, Union; Cassi Pearson, Louisville; Kimberly Reyes, Forest; Samuel Tero and Sylvia Thames, both of Decatur; and McCool.