Advisor

Chris Ryals
cryals@eccc.edu  
601-635-6257

30 Hour Career Certificate
45 Hour Technical Certificate 
Associate of Applied Science Degree

Cluster Options

Architectural Engineering Technology/Technician
General Drafting
The Drafting & Design program provides the skills and training for individuals who wish to seek jobs in the fields of drafting, architecture, and land surveying.  Students are trained on the latest computer-aided drafting (CAD) software packages including AutoCAD, Inventor, Revit, Architectural Desktop and Arc GIS.  AutoCAD is one of the industry standards for CAD technicians around the world.  Experience with AutoCAD can lead to highly rewarding positions because of the current demand for AutoCAD technicians.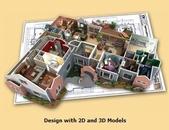 Architectural Technology Option
The Architectural Technology option prepares a person for careers in the architecural drafting field as an Architectural Drafter or Architectural Designer or CAD Technician.  This option will emphasize the design of residential as well as commercial fields.  The program is designed to prepare graduates for employment in architectural firms, design/build firms, engineering firms and manufacturing facilities.
Upon successful completion of the curriculum, the graduate will earn an Associate of Applied Science degree (AAS) in Drafting & Design Technology with an emphasis in Architectural Engineering Technology.

General Drafting Option
Students enrolled in the General Drafting option in the Drafting & Design Technology program receive training to draft and design projects of many different calibers.  Graduates of the General Drafting option can pursue careers as Machine Drafters, CAD Technicians, Engineering Aides and many more.
Courses taught in the Drafting & Design Technology program are...

Fundamentals of Drafting
Machine Drafting I & II
Advanced CAD

Elementary Surveying
Construction Materials
Structural Drafting

Principles of CAD
Architectural Design I & II
Descriptive Geometry

Graphic Communication
Mapping & Topography
Cost Estimating

For a complete list of courses needed to complete the Associate of Applied Science Degree in Drafting & Design Technology, please see the ECCC College Catalog.
Drafting & Design Graduate Careers

Architectural Designer
Building Estimator
CAD Technician

Engineering Aide
GIS Technician
Land Surveying Assistant

Machine Drafter
Mapping Technician
Technical Illustrators
For additional information concerning the Drafting & Design Technology Program ...
The fields marked * are required.