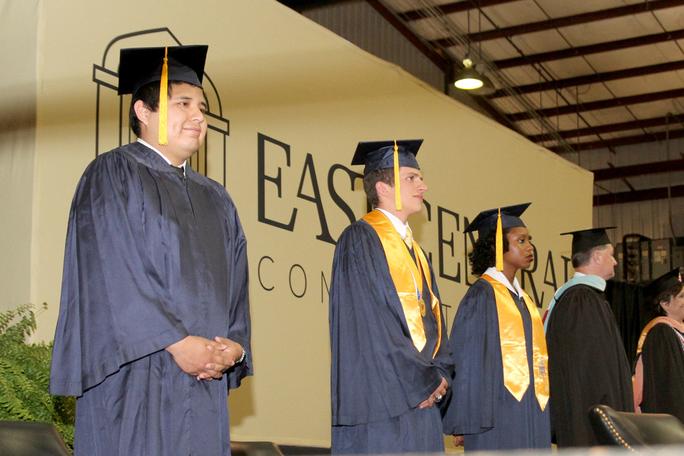 For the second straight year, East Central Community College has graduated its largest class of students in the institution's 88-year history.
 
ECCC awarded degrees or certificates to 597 students after the 2015-16 academic year in May 2016, the largest one-year total since the college was founded in 1928. It was a 5.1 percent increase over the previous academic year, which at the time was the largest graduating class in East Central history.
 
"We continue to see extremely positive results from initiatives implemented as part of the college's 2020 Vision strategic plan," said ECCC President Dr. Billy Stewart. "In just two years, East Central Community College has helped almost 1,200 students complete their degrees or certificates prepared to continue their education at four-year colleges and universities, enter the workforce to begin meaningful careers, or return to their current workplaces better prepared to perform their jobs."
 
The record graduating class included a 33 percent increase in students receiving technical or career certificates over the previous year, a direct result of a reformatting in fall 2014 of exit points for students in these programs.
 
The number of hours needed for completion in the Associate of Applied Science technical degree and the technical and career certificate programs was converted to allow exit points for students at 30 hours, 45 hours, and 60 hours. While the college's Associate of Applied Science and career programs are 60-hour programs, beginning in fall 2014 students were allowed exit points at 30-45-60 hours if for some reason they needed to exit their program.
 
"At 30 or 45 hours, a student receives certification that, in most cases, will begin improving their work career and life until they can come back and finish the full program at a later date," noted Stewart.
 
East Central awarded 568 degrees and certificates in May 2015, which topped the previous record class of 505 students in 2006-07. The then-record 2014-15 class was a 62 percent increase over the 2013-14 academic year in the number of students earning the two-year pre-baccalaureate Associate of Arts or Associate of Science degree, and an overall 36 percent one-year increase in students completing all programs, including pre-baccalaureate degrees, technical degrees, and technical/career certificates.
 
Adopted in February 2013, ECCC's 2020 Vision strategic plan includes five institutional commitments—Student Success, Teaching and Learning, Community Partnerships, Resource Planning and Development, and Communication—which serve as core functions for the college to shape its vision and fulfill its mission. Among the initiatives implemented to improve student success, particularly in the area of program completion, were:
 
Waiving the $40 graduation fee as an incentive for more students to apply for graduation and officially complete programs of study.
Reducing the number of hours needed for a two-year associate degree from 62 to 60 to align with the 120 hours needed for a baccalaureate degree.
Increasing the number of hours needed for a full-time course load from 12 to 15 hours so that students successfully completing a full load of 15 hours over four semesters have an opportunity to graduate in two years.
Reducing late registration from five class days to two days so that students who register late only miss one day of classes at the beginning of each semester.
Requiring all full-time faculty members to devote one hour per week tutoring students in the Success Center.
 
"It's important that we continually seek improvements in our educational programs and learning environments that help our students successfully complete their programs of study," said Stewart. "The success of our students is our top priority, and these initiatives in fulfillment of the Student Success and Teaching and Learning institutional commitments of our 2020 Vision ensure these students achieve their full potential in pursuit of their career and life goals.
 
"However, record graduating classes are not our goal at East Central Community College. That is simply a by-product of the most important goal—the success of our students."