July 30, 2020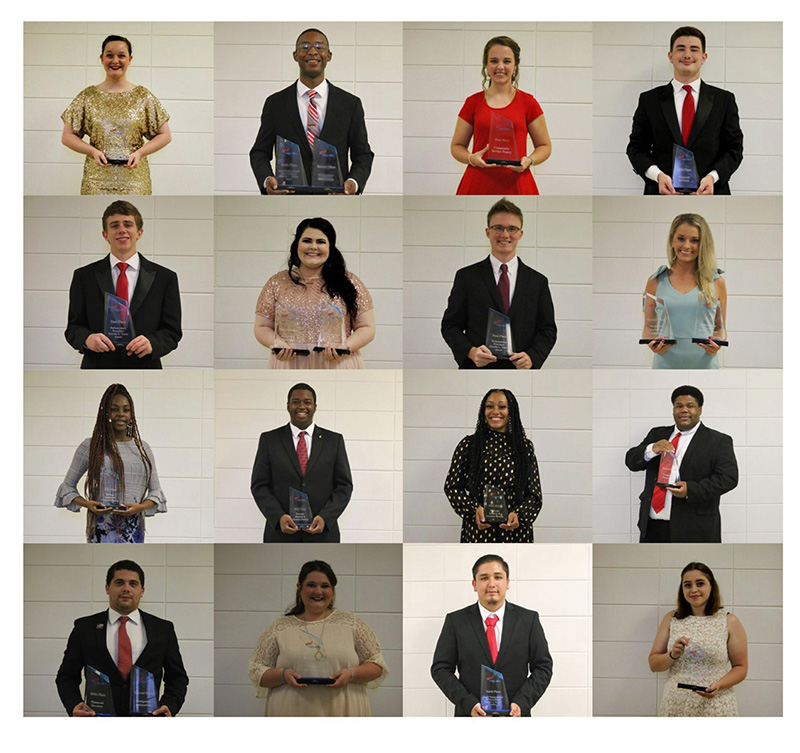 ECCC Phi Beta Lambda students receiving national awards included (top row, from left) Beth  Fortner of Port Gibson, Caleb McGrew of Meridian, Lillie Chapman of Philadelphia, and Luke Wall of Decatur; (second row, from left) Brian Pace of Collinsville, Hannah Stokes of Philadelphia, Tucker Cain of Carthage, and Carly Greenwood of Philadelphia; (third row, from left) Genesis Lyons of Decatur, Nathan Lampley of Louisville, Toni Hilliard of Wesson, and Justice Battle of Lake; and (bottom row, from left) Jerry Davidson of Philadelphia, Camilla Addy of Decatur, Cezar Arroyes-Torres of Morton, and Jamie Pogue of Forest. Award winners not pictured are Janna Ford of Carthage and Daniel Triplett of Nanih Waiya. (Submitted Photo)
Eighteen East Central Community College Phi Beta Lambda students were honored recently when the group held its national awards night Friday, July 24, on the Decatur campus. 
Traditionally, the awards would have been presented at the National Leadership Conference in Salt Lake City, Utah, on June 27, but due to the COVID-19 pandemic, the event turned into a Virtual National Leadership Experience, according to ECCC PBL sponsor Christy Ferguson. 
To participate in the national competition, students had to record and upload their presentations to YouTube for judging in most categories. Some other events were proctored by an advisor and files uploaded to the designated website. Ferguson said students attended many Zoom meetings and social distanced practice sessions prior to the competition.
East Central's Theta Chi chapter had 19 students total participate in various events and they placed in 12 of the 15 events in which they competed, including six first place awards.
Theta Chi was recognized for being the second largest chapter in the nation and the largest chapter among community colleges. The chapter also received a Gold Seal Chapter award, which is presented to only two chapters in the state.
Hannah Stokes of Philadelphia received the coveted Who's Who in Mississippi award, which is presented to one member from each state, and ECCC has had a recipient each of the last four years.
Award recipients and their respective categories include Beth Fortner of Port Gibson and Caleb McGrew of Meridian, first place, Business Law; Luke Wall of Decatur and McGrew, first place, Business Sustainability; Lillie Chapman of Philadelphia and Janna Ford of Carthage, first place, Community Service; Hannah Stokes and Carly Greenwood, both of Philadelphia, first place, Integrated Marketing Campaign; Tucker Cain of Carthage, Ford, Brian Pace of Collinsville, and Carly Greenwood and Hannah Stokes, both of Philadelphia, first place, Parliamentary Procedure; Toni Hilliard of Wesson, Nathan Lampley of Louisville, and Genesis Lyons of Decatur, first place, Strategic Analysis and Decision Making; Justice Battle of Lake and Daniel Triplett of Nanih Waiya, second place, Computer Animation; Camilla Addy of Decatur and Jerry Davidson of Philadelphia, second place, Social Media Marketing; Davidson and Cezar Arroyes-Torres of Morton, third place, Financial Services; Wall, fourth place, public speaking; Arroyes-Torres, sixth place, Local Chapter Annual Business Report; and Jamie Pogue of Forest, seventh place, Administrative Technology.
Christy Ferguson, Thomas Fortenberry, Judy Hurtt, Lisa Lampton and Bobby Hebert serve as advisors.