The East Central Community College Concert Choir is made up of music majors and non-music majors.  The choir is an audition only choir and consists of around 80 members.
 
2014-2015  EC Concert Choir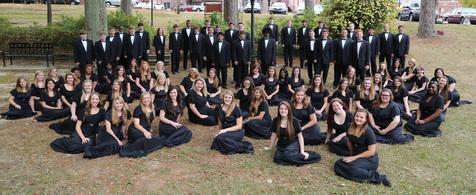 Choir Auditions will be held again once the Fall 2016 Semester Begins.
The Following students have made EC Concert Choir Thus Far that are ENTERING FRESHMEN:
Grace Addy
Shelby Addy
Destiny Barrett
Taylor Bone
Makaeya Brock
Albany Davis
Mason Garner
Jonathan Hall
Chris Johnson
Gabrielle Loper
Marisa Massey
Katie McCool
Laicon Partain
​Maiah Patrick
​Brittany Perkins
DeShannon Reed
Kimberly Reyes
Nicole Roebuck
Karmesheia Towner
Jack Vidalis
Katilyn Walker
Makayla Weaver
Brianna Whittle
VOCE 2016-2017
 
 
 
Sopranos:
Destiny Barrett
Cassi Pearson
Brianna Whittle
Kaishanna Young
Altos:
Sarah Laird
Makaeya Brock
Tenors:
Jonathan Hall
Jack Vidalis
Darryl Rogers
Basses:
Luke Clark
Micah Jordan
Samuel Tero
David Wilson
Auditions
Auditions are typically held during the spring semester and usually the last Thursday in April. See the link below for information about audition requirements.
Scholarships
East Central Community College provides each Concert Choir member a half tuition scholarship for their musical excellence and stellar representation of the college. See the link below for information about audition requirements.
Rehearsals
Concert Choir is scheduled as a class and meets three times weekly on Mondays, Wednesdays and Fridays at 10:00.  Students receive a credit for the class as well as a scholarship.
FOR MORE INFORMATION CONTACT....
Denise Riley, Director
P.O. Box 129, Decatur, MS 39327
601-635-6225  
1-877-462-3222
Email: mdriley@eccc.edu